Jacob and Renesmee are a cute couple.
Jacob has imprinted on Renesmee,when she was a baby.
Jacob is Taylor Lautner and Renesmee is Bella Thorne.In real life they have played in "My Own Worst Enemy" as brother and a sister.
Jacob is inlove for Renesmee.
Renesmee falls in love for Jacob,when she is in 6th grade and tries to impress him.
Renesmee tries to kiss Jacob,but it fails.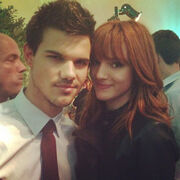 Ad blocker interference detected!
Wikia is a free-to-use site that makes money from advertising. We have a modified experience for viewers using ad blockers

Wikia is not accessible if you've made further modifications. Remove the custom ad blocker rule(s) and the page will load as expected.